A Sustainable Beef Breed
Are YOU a profit-minded cattleman? Brangus is the sustainable beef breed with more than 60 years of designed crossbreeding just for you. Ultimately, Brangus cattle make ranching operations more profitable and sustainable with noted hybrid vigor, environmental adaptability, improved longevity, and excellent reproductive efficiencies.
The International Brangus Breeders Association (IBBA) welcomes you to gobrangus.com. We're glad you joined us, and we're excited to tell you about why Brangus — The Sustainable Breed — is an asset your operation can't afford not to utilize.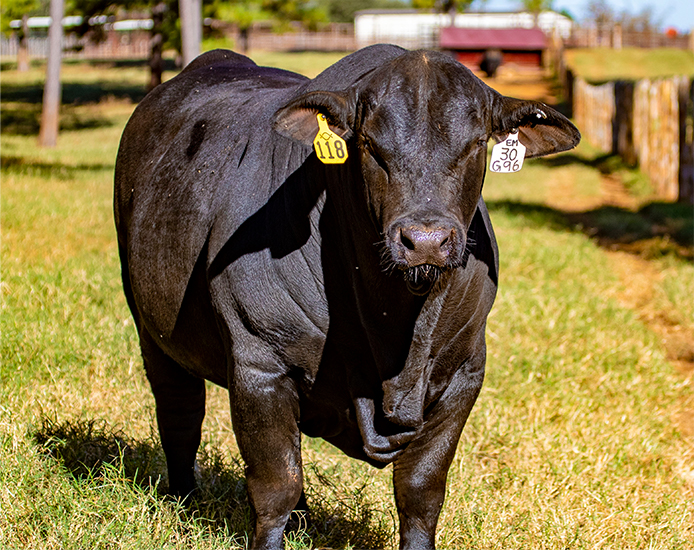 We came to the Brangus breed, initially, to create females, but the across-the-board performance through multi-trait selection has kept us anchored to the Brangus breed. The number of convenience traits that come along with these cattle, including heat tolerance and disease resistance, exceptional mothering ability, and impeccable feet and leg structure have sold us 100 percent on the Brangus breed and its ability to function at a highly-profitable level in the commercial beef business.

Joe Cavender

Cavender's Neches River Ranch
Preeminent Genetics
The Brangus breed combines preeminent genetics of modern Brahman and Angus cattle to produce the most environmentally-adapted beef breed in the world. Brangus and Brangus-influenced cattle adapt well to a wide range of environmental conditions and climates. The combination of Bos indicus and Bos taurus traits in Brangus genetics allow them to thrive in hot, humid environments, as well as cold environments. Additionally, Brangus withstand parasites and disease better than any other breed of cattle. Brangus cattle adapt and flourish in some of the harshest environments in the world. The Brangus replacement female thrives in the humid Texas climate, fescue-infested pastures from Missouri to Tennessee, the tropical weather in Florida, the wet, cold winters in Nevada, and everywhere in-between.
The Nearly Perfect Brangus Female
Brangus is the maternal breed of choice that offers reproductive excellence and optimum growth rates without sacrificing carcass performance. The nearly perfect-uttered Brangus female excels in efficiency and weaned-calf production as she outclasses others in milk production under limited feed inputs and other environmental constraints.
Her Bos indicus heritage gives her built-in calving ease, fertility, insect tolerance, and longevity; while her Angus heritage gives her innate marbling abilities all in a polled, moderate-framed, solid-colored package.
The highly-sought-after Brangus-influenced replacement female is known for her easy fleshing ability, early puberty, and lower input costs as she consistently calves at an early age. She is the ideal maternal choice for commercial cattlemen maximizing heterosis in a continuous breeding system producing replacement females or in a terminal breeding system utilizing continental bulls to produce feeder calves without sacrificing carcass composition. The added maternal heterosis means the cow will be more adaptable, wean heavier calves, and produce more total pounds in her lifetime as she lasts longer.

The first thing that attracts me about them is they're incredibly docile. A lot of people are concerned when they know that there's some Brahma influence there, and assume that's going to make them difficult to deal with,. I don't own a horse; I do everything on foot or with my pickup. I run about 125 registered cows, and I have no issues whatsoever. Disposition, at my age, is incredibly important.

Bill Austin

Bill Austin Brangus